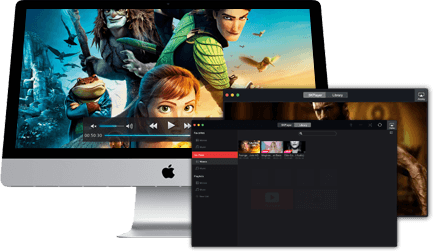 If you just know how to use a Mac device, you must know what video player in a Mac means. Video players are needed to play video on a device, without them no videos can be played.
What are video formats?
The structure in which a video is stored in the computer is called video format. You should know that video signals require a huge amount of data to represent them. The video is kept in a compression and stored in a file. Therefore, while capturing a video a different format is used and editing the workflow a different format is used. With Elmedia Player perfectly smooth HD experience is guaranteed thanks to hardware accelerated decoding and you can play all formats.
Different Video formats?
There are a number of video formats, some popular ones are mentioned below:
Flash Video Format or .flv:

This is a popular one because of its cross-platform availability. Each browser supports them. They support progressive downloads as well as streaming.
AVI Format or .avi:  

This was created by Microsoft. It is one of the famous formats used by internet users. The format supports both video and audio data.
MP4:

This format actually compresses video using MPEG-4 format, used for storing video and audio file.
MPG Format:

Used to create downloadable movies.
3GP File Extension:

Mainly used by 3G cell phones to transmit video and audio files, also used by internet users.
RealVideo Format:

If you are having low bandwidths, this format is a good choice for you.
Quicktime Format:

It is used in Mac and Windows both, and has a single or multiple tracks to store audio, video, effects and text.
Recommendation
There are many formats of video today, if you need a good player, Elmedia Player is the best choice when you are looking for a video player for Mac. You can also play video with subtitles on Mac. It is capable of supporting any video of any format..